We are eternally grateful to all those kind people who help us to care for the animals in our sanctuary.
Company Registration No 3714183 .
VAT Number 741 8355 27.
UK registered charity number 1076645

At Wales Ape & Monkey Sanctuary we have many horses such as Miniature, Shetland Ponies, Welsh Cob to Shire Horses. All have been rescued within the UK.
It is extremely unlikely to see all horses in a herd lying down simultaneously. This is because at least one horse will stand as a look-out in order to be able to alert the others of any potential dangers.
Horses use a range of different vocalisations to communicate. Whinnying and neighing sounds are elicited when horses meet or leave each other. Stallions (adult male horses) perform loud roars as mating calls, and all horses will use snorts to alert others of potential danger. Mares (adult female horses) use deep smooth sounds, whickering, when they are nursing a foal (infant horse).
Horses are undeniably clever animals. Beyond being proficient at relatively simple learning tasks, they are also recognised as having the capacity to solve advanced cognitive challenges involving categorisation learning and a degree of concept formation.
The horse is one of the 12 Chinese signs of the zodiac. Anyone born in the year of the horse is seen to embody the characteristics of the animal, namely intelligence, independence and a free-spirit.
Equine assisted therapy is a growing field where horses help people with a wide range of mental health issues. A relationship between the patient and the horse develops and allows the person to engage with nature through a beautiful and peaceful animal. This aids in building trust, respect, compassion, communication and self-confidence. The skills learned through building a meaningful relationship with the horse are transferable to other aspects of the individual's life.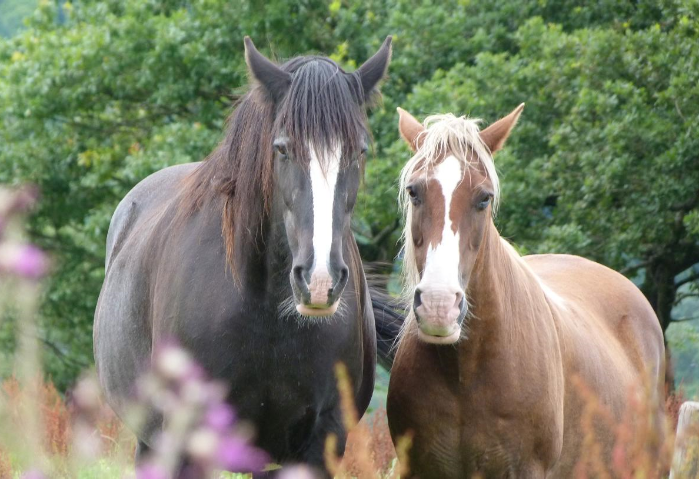 The perfect gift for animal lovers, why not adopt a Horse
We are eternally grateful to all those kind people who help us to care for the animals in our sanctuary. Donations from the public, businesses and other organisations are vital to our continued survival and any contribution or other form of support is greatly appreciated.
Here are some of the characters that you will see on your visit to the Wales Ape and Monkey Sanctuary.
Click here to read about Magic, Ebony, Merlin and their friends at the Sanctuary.