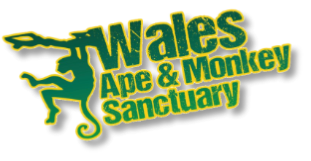 Call us today on Telephone: +44 (0) 1639 730276
DONATE
TICKET PRICES
I am very honoured to be a Patron of the Wales Ape and Monkey Sanctuary. I first got involved with the Sanctuary after they featured on my network BBC One primetime television series 'Rhys Jones's Wildlife Patrol'. They were generous enough to allow me to be involved with two rescues, those of Bili the chimpanzee and Titch the mandrill.


Since then, we have worked together on numerous occasions and built a fabulous relationship, which has led to me being asked to be a Patron of the Sanctuary. The Wales Ape and Monkey Sanctuary have saved unwanted primates from a number of zoos and private collections from across Europe.


I have witnessed first-hand how many of these animals have needed extensive veterinary care and labour-intensive rehabilitation. Often the sanctuary will take in other animals in need, from wolves to horses. However, all this costs money and the Sanctuary is after all a charity. That's why I am very proud to support my friends and offer whatever help I can to ensure everyone is aware of the great work they do.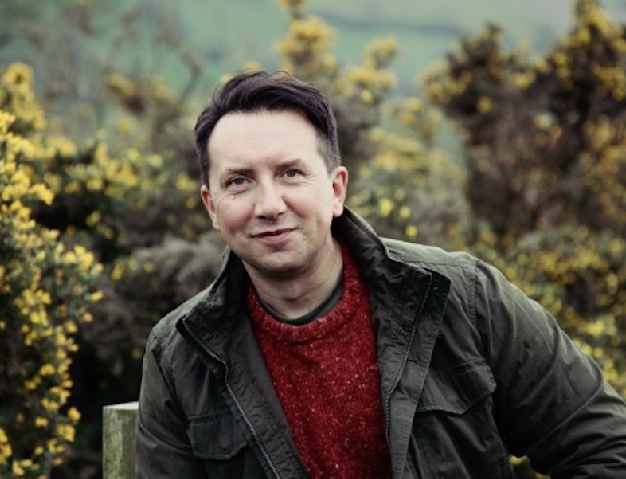 I am constantly reassured by the great work the Wales Ape and Monkey Sanctuary undertakes and delighted to be able to continue my support of their work to make sure unwanted primates have a safe and happy home here in Wales.'
Phil has been a long standing supporter of our sanctuary and has been in touch over the years regarding various campaigns and plights.
The most recent support has been throughout the pandemic and even donating gig tickets to us as a prize for any of his UK tours. With Phil's help we raised £7,445 and this came at such a crucial time.
Phil is very active on twitter and Instagram, always re-tweeting and re-sharing which is always a huge help.
Quote from Phil:
I have followed the sanctuary for a number of years and did not hesitate to become one of their patrons when asked.
I urge you all to come down to WAMS in Wales and help support all their rescued primates and animals.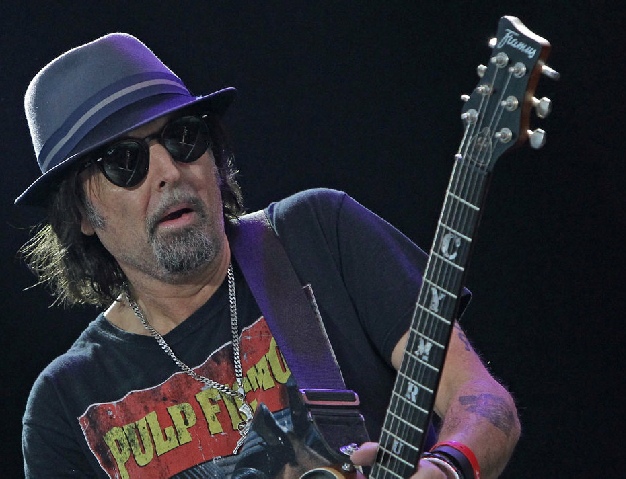 Phil Campbell was previously in rock band Motorhead and is now in his new band 'Phil Campbell and the Bastard Sons'. PCATBS have a new album out at http://www.philcampbell.net/

Padge and his girlfriend Jen visited our sanctuary in Sept 2019. They loved seeing all the different animals and absolutely loved two of our chimps, Ronnie and Nakima!
They had such a great time as soon as they got home they both started following us on Instagram and Twitter.
After a few direct messages, we asked Padge to be our Patron. Since then, Padge has always supported us.
We did an appeal for ranger equipment to be sent out to Angola and both Padge and Jen donated 2 huge Bergen's full of equipment. Padge tweets, re-shares on Instagram and is always at the end of the phone should we need his help.
Through the pandemic, again, Padge came to our rescue. We locked down the sanctuary on the 23rd March 2020 and needed to desperately raise funds for our animals. We decided on a raffle. Padge personally donated BFMV merchandise, guitar picks, signed DVD's & t-shirts. With his help we managed to raise a whopping £7,445.
Quote from Padge:
"The sanctuary holds a special place in my heart. I really enjoyed my first visit and I'm happy I can help in any way. The work the sanctuary carries out is highly commendable. Every animal is rescued and is given the best life possible"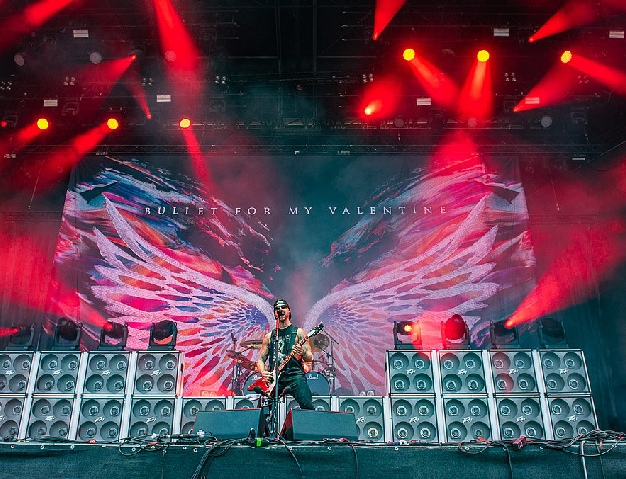 The chimpanzees and other animals at the sanctuary had nowhere else to go and it is comforting to know that these creatures and others like them will always have a home there.

Graham Norton the well known and well loved chat show host and consummate comedian has been a patron of our sanctuary since the year 2002.
Graham, born in Clondalkin near Dublin honed his media skills in San Francisco, USA, before becoming known through his appearances as a regular panellist on BBC Radio 4's Loose Ends program.
He originally made his mark as a comedian but became an international star of television when he brought his unique style of wit and humour to chat shows with the BBC's Graham Norton Show.
He is a man of many parts however, which he proved when he was given the difficult job, and some would say thankless task, of hosting the European Song contest.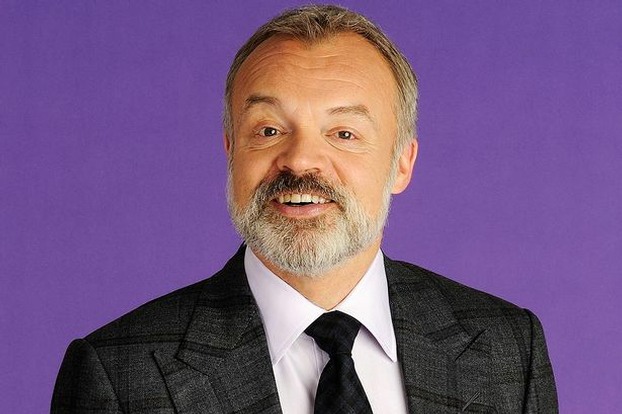 James Cordon and Sheridan Smith were so pleased to meet the animals that both agreed to become patrons of the sanctuary.
They appeared together in the second series of "Gavin and Stacey" and have many other TV and theatre successes to their credit.
Sheridan Smith, OBE - came to prominence on television for her roles in comedy shows Two Pints of Lager and a Packet of Crisps, Love Soup, Gavin & Stacey, Grownups and Benidorm.
James Corden, OBE - actor, comedian, television host, and singer. He hosts The Late Late Show with James Corden, a late-night television talk show on CBS
Pictures below of James' and Sheridan's visit to the sanctuary.
James Cordon and Sheridan Smith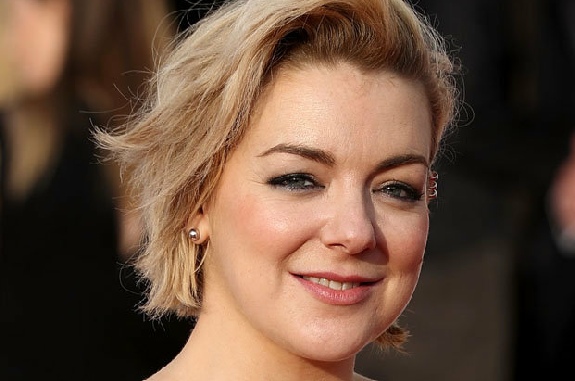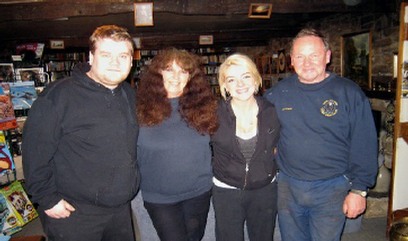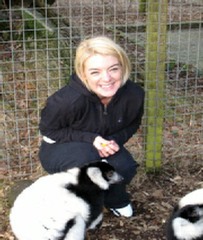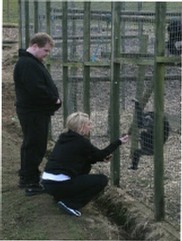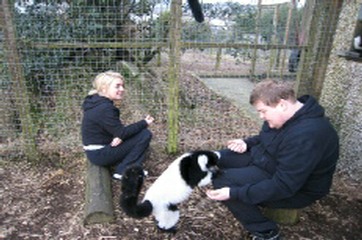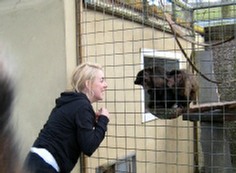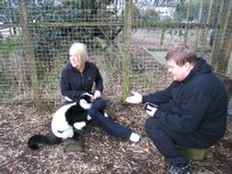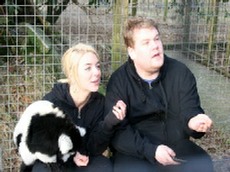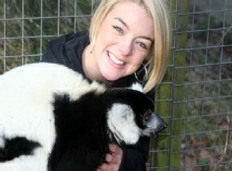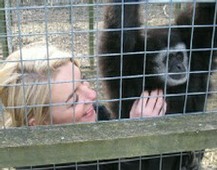 We would like to thank Alan at View Web Design for designing and donating the website to
Wales Ape & Monkey Sanctuary....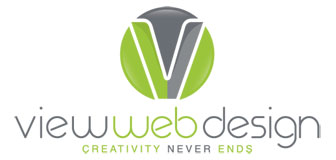 Gwilym first visited the Sanctuary around 10 years ago with family when he lived in Wales.
Originally from Cardiff, Gwilym has undergone an extreme transformation from overweight office worker to becoming an international model and has grown a social media following of over 300,000 from sharing his work and travels around the world.
Following his visit to the sanctuary and travelling through Africa and Peru, Gwilym has developed a passion for wildlife photography and has decided to pivot his work to focus on conservation, adventure travel and all things great about the natural world. He is current studying a BSc in Environmental Science.
"The first visit nearly a decade ago has stuck with me as one of my most memorable experiences. I couldn't help but be moved by all of the stories of the animals and the care and attention the Sanctuary gives. I'm really looking forward to working closer with the Sanctuary in the future and giving support to their amazing work"